Tags
2012, Floyd Mayweather, Jared Sullinger, Kobe Bryant, L.A. Pride, Ladanian Tomlison, Miami Heat vs. Oklahoma City Thunder, Michael Jordan, Mike Dunlap, Mike Tyson, R.A. Dickey, Random Sports Thoughts, Random Sports Thoughts By L.A. Pride, Roger Clemens, The Charlotte Bobcats, Tiger Woods, Webb Simpson
L.A. Pride is a true sports enthusiast.  A former youth, and division II assistant basketball coach, who studied the martial arts, he enjoys and follows all sports, even hockey.  His quick wit and insight brings a fresh view to the world of sports. You may not always agree with him, but you will enjoy his highly opinionated thoughts.
Is it me…
Or is Tiger Woods still pawing with us?  After two fairly good rounds at the U.S. Open and within striking distance of the lead, Tiger lost his edge.  Starting five strokes back Sunday, Woods played the first six holes, in 6 over par, and shot a 73 for the day and was never a factor as he finished six strokes back, tied for 21st.
 Congrats to Webb Simpson, who shot a +1 (68) to win his first career major tournament.  Yes, a +1 over par won the tournament.  The course was cruel, ask Tiger.  Stay positive Tiger.  (It amazes me that Tiger is always the story at any tournament he is competing in.  It doesn't matter how he is doing. If he is playing, he is the story.)
Is it me …
Or should we look in on the NBA Playoffs?
Finals
Miami Heat vs. Oklahoma City Thunder*
The Heat lead 2-1, as they continue to ride LeBron's back during the finals.  LeBron has decided HE will not lose to the Thunder in this year's finals and has single-handedly carried the Heat, offensively and defensively.
 Kobe Bryant holds the record for the most 30 plus point games in the playoffs.  LeBron is one game behind him, with at least two games to play.  It will be interesting to see if LeBron ties or takes the record.
LeBron has an excellent shot at winning the playoff's MVP.
Courtside seat for last night's  game went for +  $14,000 and it doesn't include popcorn!
* Played Tuesday night after we went to press.
The NBA Playoff picture; Follow this link to the match-ups and most current stats:
http://www.nba.com/playoffs/2012/index.html
Is it me…
Or does Michael Jordan know something we don't? The Charlotte Bobcats reportedly have a new coach, and he wasn't even one of their three finalists.
The Charlotte Observer reports that the Bobcats have hired St. John's assistant coach Mike Dunlap to replace former coach Paul Silas, who was let go by the Bobcats back in April.
Dunlap a former assistant coach with the Denver Nuggets is thought of very highly around the NBA and coaching community.
Ohio State basketball forward Jared Sullinger has become the first big name of the Class of 2012 to find himself dropping down in the draft.
Sullinger, who is projected to be a lottery pick in the 2012 NBA draft, underwent a series of medical tests at the NBA draft combine a week ago. According to sources, the doctors who looked at Sullinger were concerned with his back.
A number of NBA team doctors have reviewed the information from the NBA and have told their front office staff that Sullinger's back issues could shorten his NBA career and some have advised their teams not to draft him in the first round.
Jared has already dropped down to #20 on several mock drafts and may fall further as the draft approaches.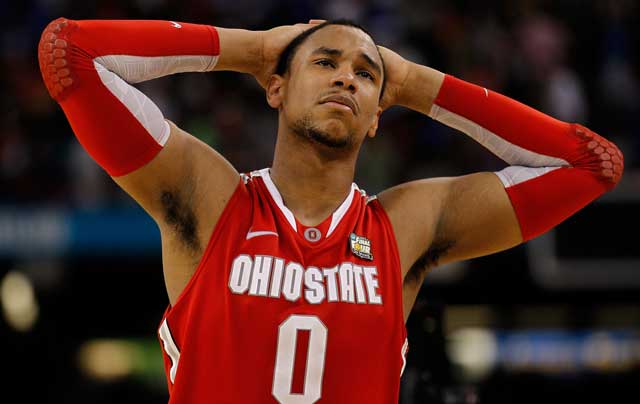 Is it me…
Or is Ladanian Tomlison doing the right thing retiring as a Charger?  LT signed  a contract with the Chargers and announced his retirement.  Therefore, when elected into the Hall of Fame, and he will be, he will go in as a Charger ( sorry Jets).
Tomlinson was drafted fifth overall by the Chargers in the 2001 NFL Draft and instantly became one of the highest-impact players in the NFL. He rushed for 1,236 yards in his rookie season and that was his lowest total until he rushed for 1,110 yards in 2008. He's currently fifth all-time in rushing yards, behind only Curtis Martin, Barry Sanders, Walter Payton and Emmitt Smith.
LT will always be thought of as a Charger.  He had a couple of good years with the Jets, but had some GREAT years with the  San Diego Chargers.
NFL teams continue to adjust and shape their rosters;
A list of current NFL transactions can be found at
http://www.cbssports.com/nfl/transactions/
Is it me…
Or is Spike Lee  'biting ' off more than Mike Tyson can chew?
Spike lee is reportedly working with Mike Tyson on a one-man play starring Tyson as himself.  I am sure it will be an earful.
Is it me…
Or did Bradley still lose the fight on the replay to Jacquie?  The boxing community is so 'outraged' at this decision that one of the many sanctioning organizations (WBO) is reviewing the fight film to make a recommendation.   Well, unless they figure out a way to get rid of subjective judging, we will continue to have strange decisions.
Angles, and attitude create different opinions .  And unless boxing can see to it that judges see the same thing at the same time, we will have varying opinions.  At least it is keeping boxing in the headlines.
Is it me…
Or is Floyd Mayweather reconsidering his decision to cop a plea and accept jail time?  Floyd Mayweather Jr.'s request that he be released from jail because the low-quality food and water have threatened his health was denied by a Las Vegas judge who says he should eat and drink what is being given to him behind bars.
Justice of the Peace Melissa Saragosa wrote in her late Wednesday decision that water has been made available to Mayweather around the clock and the only reason he isn't eating properly is because he refuses to eat the provided meals. Saragosa said Mayweather's complaints that he is unable to exercise in jail are also unfounded.
"While the physical training areas and times provided  (to Mayweather) may not be consistent with his prior regimen, he is indeed provided sufficient space and time for physical activity if he so chooses," Saragosa wrote.
Ten days after Mayweather turned himself in to begin his three-month sentence, his legal team filed an emergency motion asking the court to put him under house arrest or move him into the general jail population – something that jail officials had avoided to protect Floyd. The motion claimed the undefeated champion might never fight again because he was getting out of shape in solitary confinement.  (a subtle threat to the city of Las Vegas.  Mayweather fills the City's coffers whenever he fights there.)
Mayweather lawyer said earlier this week that he was not seeking special treatment for the 35-year-old fighter.   He just wants a better training facility and food while serving his time.
By the way, Floyd 'Money' Mayweather was the highest paid athlete last year (Pacquiao, was second) and where is  "Money" ,  in the county jail.   You gotta love boxing and boxers.
Is it me…
Or did Roger Clemens close the door on the steroid error?  Roger Clemens was acquitted of all six charges against him.  Roger, who was on trial for perjury, handed federal prosecutors a stunning defeat and may have ended any further involvement by the government in the use of  performance enhancing drugs.
Ultimately, it is the fan who will vindicate or condemn Clemens, Bonds, and the host of other players who have been suspected of 'juicing'.  But for now it seems to be a dead issue with little interest in who cheated and who didn't.  As always, if it is your guy, he's innocent.
The Yankees had a 10 game winning streak going into last night, all against National League teams.  I am sure if George was alive, he would be campaigning for the Yankees to switch leagues under the guise of competitive balance.
R.A. Dickey, of the N,Y. Mets, is the first pitcher since 1988 to pitch consecutive one-hitters.  (In the strange world of baseball the Mets are trying to have the hit charged against Dickey changed into an error, thus giving him a no-hitter.)   Dickey, who has amazing control of a knuckleball, is probably the most dominant pitcher in baseball today.
Edited by D. Pride.