Tags
Carmelo Anthony, darrelle revis, J. R. Smith, L.A. Pride, Mike Tyson, mistake, Nba Playoffs 2013, NY Giants John Mara, NY Jets, Random Sports Thoughts, Random Sports Thoughts By L.A. Pride, Tampa Bay Buccaneers, trading, Victor Cruz, wide receiver
L.A. Pride is a true sports enthusiast.  A former youth, and division II assistant basketball coach, who studied the martial arts, he enjoys and follows all sports, even hockey.  His quick wit and insight brings a fresh view to the world of sports. You may not always agree with him, but you will enjoy his highly opinionated thoughts.
Is it me…
Or did the NY Jets make a mistake trading Darrelle Revis?  The NY Jets, who won Super Bowl 3, and haven't been back since, traded D. Revis their best player, and arguably the best cornerback in the league to the Tampa Bay Buccaneers.  The Jets received draft picks for this year and next.
Revis, who is rehabbing a torn ACL (knee) signed a non-guaranteed 96 million dollar contract with Tampa Bay.  It is a unique contract that requires Darrelle to play and perform.  The Jets appear to be in a rebuilding mode and have two early first round draft picks.  (The draft is upcoming but is void of any big time names.  Go ahead name the projected number one draft pick.)
The Jets who were not willing to pay Revis 'the big bucks' rolled the dice and gambled that they are going to be okay without Revis.  Rex Ryan head coach of the Jets, claims that they will still be a defensive team.  Hmmmm!  It remains to be seen.  With Revis the Jets could overload at different spots knowing that Revis would shut down his side of the field single handedly, like a man on a deserted island.  They will have to adjust their defensive schemes and they may not have the troops.  Revis' island in NY has now become a tourist attraction with a lot of receivers making reservations.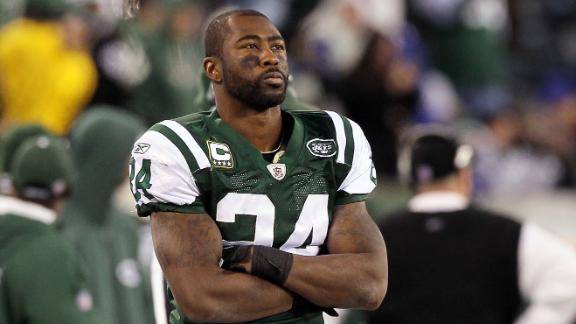 NFL teams continue to adjust and shape their rosters;
A list of current NFL transactions can be found at
http://www.cbssports.com/nfl/transactions/
Is it me…
Or are the Giants playing with fire by not signing Victor Cruz to a long-term contract?  Victor Cruz, wide receiver, NY Giants met with John Mara, owner of the NY Giants at a charity event Monday night.  Cruz was being honored for his community service work.
Cruz who is seeking a long-term deal currently has a one-year deal on the table worth 2.8 million dollars.  Given the current market value of wide receivers, Victor is being low-balled and deserves more for a longer period of time.
The public relation hit alone the Giants stand to take if Cruz gets away next year would be disastrous, not to mention what his absence would do to their offense (he can really play).
It makes you wonder if the NY football teams have a clue to what they are doing.
Is it me…
Or does the NBA playoff format have a hitch or two?  The NBA plays the best of seven in all rounds of the playoffs.  This really favors the better team because the more you play the greater the opportunity for the better team to succeed, thus making upsets rare.  If they really want to make it interesting play best of five in the opening round, giving the underdog a puncher's chance.   If they get hot and steal a game, who knows…
The favorite has a disadvantage in that they only get one additional home game.  If it goes seven games, then the final game is played at the favorites home court.  However, if they lose a home game early in the process, they lose home court advantage.  In the NBA they play 82 games to get the home court and can lose it in one playoff game unfair.  It makes the regular season seem useless.  How about the underdog getting one home game in the best of five or two in the best of seven?  It would really put pressure on teams to do well during the season.  Unfortunately it would cost some owners money and we know what that means …
The NBA playoffs began last weekend and the favorites all held serve and won.   Round two started Monday, with the Brooklyn Nets losing the game and home court to Chicago.  The Clippers beat Memphis and went up two to nothing.  (Tuesday night games ended after we went to press.)
Congrats to the Knicks' Carmelo Anthony on winning the scoring title, and J.R. Smith for winning the sixth man award.  Will Coach Woodson (Knicks) win the much-deserved Coach of the Year award?
Follow this link to the latest news in the NBA:
Is it me…
Or is Mike Tyson giving a knockout performance in his one man show about his life?  Iron Mike has been knocking them dead with his performance as he tours the country.  Break a leg Mike (not literally).
Edited by D. Pride.