Tags
American league teams, Boston Bruins, Brandon Knight, Clarence Clemons, Derrick Williams, Enas Kanter, its hey now, itsheynow, itsheynow.com, Jimmer Fredette, kemba walker, Kimba Walker, Kyrie Irving, L.A. Pride, lakers, Lord Stanley's Cup, Los Angles, Mike Brown, National League teams, NBA draft, NHL Championship, Random Sports Thoughts, Random Sports Thoughts By L.A. Pride, Rory McIlroy, the Bruins, tim thomas, Vancouver Canucks
L.A. Pride is a true sports enthusiast.  A former youth, and division II assistant basketball coach, who studied the martial arts, he enjoys and follows all sports, even hockey.  His quick wit and insight brings a fresh view to the world of sports. You may not always agree with him, but you will enjoy his highly opinionated thoughts.
 Is it me…
 Or did we get one right?  Road team finally wins one and the Bruins take Lord Stanley's Cup.
The Boston Bruins defeated the Vancouver Canucks, 4-0, to take the NHL Championship.  Their first in thirty-nine years. Tim Thomas, (not the basketball player from Paterson) was outstanding in goal for Boston.
 The Vancouver "Fans" decided to have a riot in defeat and were just boorish in their behavior.  It goes to show that no city or sport is exempt from the so-called fans and their stupid behavior.  You really begin to question "fans" and their loyalty to their city/team.  How is rioting showing support?
Congrats to the Bruins
 Is it me…
 Or is the upcoming NBA draft the weakest in years?    Name the top four prospects for this year!  I am waiting.  You can't do it.
It appears that Kyrie Irving, who played in eleven games for Duke last year will be the number one pick, going to the Cleveland Cavaliers.  (It is very interesting that Cleveland gets the number one pick after losing LeBron via free agency.  Was it luck?   Years ago the league needed/wanted the New York Knicks to be good again.  Guess who "won" the lottery that year and drafted Patrick Ewing?)   There are several decent players available, Irving, Derrick Williams, Enas Kanter, Brandon Knight, Jimmer Fredette, and Kemba Walker, but not one head turner.  It will make for an interesting draft, the lack of a superstar.
 Is it me …
 Or is Mike Brown a smarter coach than we thought?  The following article appeared in the L. A. Times:
"Though Kobe Bryant seems intent on keeping his feelings quiet, a weekend report finds the Lakers superstar getting along well with his new head coach. Despite [Bryant's] silence, people close to both sides say Coach Mike Brown has won over his new star in two face-to-face meetings. Their first was May 31 at Bryant's home in Newport Beach, on Brown's way to his news conference in downtown Los Angeles … more or less. Apparently, the meeting went well. The second was 10 days later at the El Segundo practice facility, where they went through plays on the court. So why hasn't anyone bothered to mention it? Brown did mention it, which, in the absence of a single peep from Bryant, didn't settle the issue."
Brown obviously knows who runs the show in Laker Land and has made every effort to win Kobe over.  Brown, who has coached one prima donna, in Cleveland, realizes that he will only be as successful as his players let him.  Therefore he has gone out of his way to get Kobe onboard, and by all stories appears to have done so.  It's early, but this "marriage" may work after all.  As for Kobe's silence, he's making the Lakers suffer.  You don't make a change to "his" team without running it by him-he'll show them.  You ask before playing with Kobe's toy.
 Is it me…
 Or are we crowning a new "King" a bit soon?  Rory McIlroy destroyed the field at the U.S. Open this past weekend, winning the tournament,  sixteen strokes under par and eight better than his nearest opponent.  McIlroy, who had a major collapse at the Masters this year, and lost a big lead, showed no mercy at the Open, as he destroyed the competition.  In doing so, he set the following course records;
The 72-hole record at 268.
The 54-hole record at 199.
The 36-hole record at 131.
Most under par at any point at 17 under.
Quickest to reach double digits under par — 26 holes when he got to 10 under in the second round.
McIlroy, who is 22 years old, is being hailed as the next Tiger Woods.  (Tiger did not play in the tournament due to a leg injury.)  Granted McIlroy was impressive at the Masters and superb at the Open, but he must continue to win now with the bulls-eye on his back.   Additionally, to be the king he must beat the king; he has to play in tournament with Tiger and deal with the pressure and competition of facing Tiger.  This may be just what Tiger needs to get back on his game, competition for a competitor.
Is it me…
Or is interleague play unfair to American League teams on the road?  American league teams playing National League teams in the NL city are at a disadvantage not being able to use the designated hitter.  Having your pitcher at the plate or running bases, when they are not use to doing so is an invite to injury, in what amounts to an exhibition game that counts.   Plus AL managers have to manage again, do you take a pitcher who is doing well, just because he is scheduled to hit, or do you pinch run for a pitcher who is lucky enough to get on base?  It is amazing that the two leagues have two  sets of rules.  Could you imagine the NFL, playing games that count against the Canadian Football League?  Is the field 100 yards or 110 yards long, 11 or 12 players on a side, 3 or 4 downs?  Hey, maybe we could adopt Canadian Football and let the millionaires and billionaires in the NFL miss a year and have no income.  Sorry, this was supposed to be a baseball thread.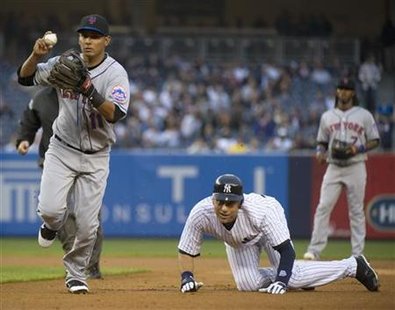 Is it me…
 Or is it with a heavy heart we note the passing of Clarence Clemons?   Clemons, saxophonist for the E Street Band, passed away this weekend at the age of 69 due to complications from a stroke. It's a big loss for Springsteen fans and for rock music.
Clemons played college (Maryland State College) and semipro football.  He was a college teammate of Jets legendary running back Emerson Boozer.
Edited by D. Pride