Tags
2012, Derrick Rose, Dwight Howard, Eli Manning, Greg Schiano, Jets, Jr. versus Sergio Martinez, Julio Cesar Chavez, Julio Cesar Chavez Jr., L.A. Pride, Lucy Molina, Meldrick Taylor, National Hockey League, nfl, peyton manning, Philadelphia Eagles, Random Sports Thoughts, Random Sports Thoughts By L.A. Pride, Saints, Sergio Martinez, The American League East, The replacement referees, Tom Coughlin, Victor Cruz
L.A. Pride is a true sports enthusiast.  A former youth, and division II assistant basketball coach, who studied the martial arts, he enjoys and follows all sports, even hockey.  His quick wit and insight brings a fresh view to the world of sports. You may not always agree with him, but you will enjoy his highly opinionated thoughts.
Is it me…
Or is Eli Manning asleep during the first half of Giant's games? Manning threw for 510 yards (295 yards in the second half) and three touchdowns and capped the second greatest passing day by a Giants' quarterback by setting up Andre Brown's game-winning 2-yard run with a 50-yard pass that lifted New York to a wild 41-34 victory Sunday over the Tampa Bay Buccaneers.
The game featured four touchdowns in the final 6:48, and ended with some post game squabbling between Giants coach Tom Coughlin and Tampa Bay coach Greg Schiano. Coughlin screamed at the former Rutgers coach after Manning was knocked down on the final play because the Bucs went all out to try to force a fumble on a kneel-down.
The other NY/NJ team, the Jets, reverted to character and scored only ten points in a 27-10 loss to the Pittsburgh Steelers. The Jets have some real issues offensively and will need to address them if they expect to contend this season.
Bounty gate is having more of an effect on the Saints than we originally thought.  They are 0-2 and looked confused at times.  We had hoped Drew Brees, quarterback, would be able to carry the team on his back, but so far it has been too much even for Drew.  It will be interesting to see how this turns out for the New Orleans Saints.
The Philadelphia Eagles are 2-0, winning both games by a total margin of two points-SKINTIGHT.
 The replacement referees are getting worse each week.  I know it has only been two weeks of real games, but the refs had all preseason to get it together.  Between missed calls, wrong calls, and too many calls they are going to get someone on the field killed.  The replacements have lost the respect (not that they ever had it) of the coaches and players.  More importantly there are times when they seem to have lost control of games.  The NFL is a major product in the U.S. and deserves the best coaches, players, and officials.  NFL owners settle with the REAL refs, so we can get back to complaining about 'good' officiating.
Peyton Manning, quarterback, Denver Broncos returned to earth after several weeks of doing everything well.  Peyton threw three interceptions in the first quarter, misreading the defense and allowing the Atlanta Falcons to win the game.
Follow this link to the current NFL standings:
http://www.cbssports.com/nfl/standings
NFL teams continue to adjust and shape their rosters;
A list of current NFL transactions can be found at
http://www.cbssports.com/nfl/transactions/
Is it me…
Or is the injured reserve list a bit crowded in the NBA (and the season hasn't started)?
Dwight Howard, NBA, L.A. Lakers' center, the biggest piece in the biggest trade in the NBA recently will miss training camp as he continues to rehab his surgically repaired back.  Dwight, who has had trouble making up his mind lately (i.e., did he want to go to the Lakers or the Nets, did he get Van Gundy fired, did he really want to stay in Orlando, etc.) feels he will be ready for the start of the season.  The Lakers do not have a timetable in place for his return.
Derrick Rose, Chicago Bulls, guard, is also rehabbing an injury, ACL/Knee and is expected to miss a large part of the season. .  And even when he returns, it remains to be seen when or even if he'll regain the explosiveness that made him one of the game's best players.
Rose tore the ACL late in the Bulls' playoff-opening win over Philadelphia, a huge setback that sent them spiraling toward a first-round exit after capturing the top seed in the East.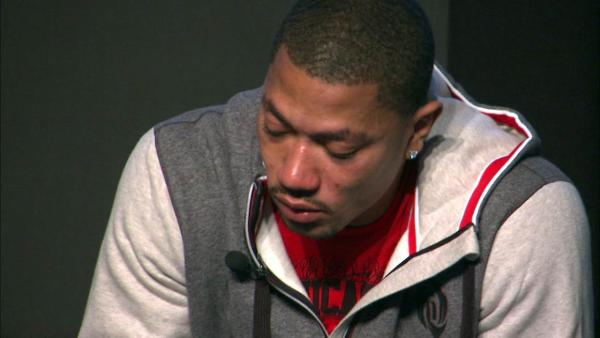 We wish both young men speedy and full recoveries.
NBA teams are adjusting their rosters.  Please follow this link for the latest information on your team:
http://sportsillustrated.cnn.com/basketball/nba/teams/?eref=sinav
Is it me…
Or do you have to see the entire fight to know who won?  I only saw the final round of the Julio Cesar Chavez, Jr. versus Sergio Martinez and assumed this round was representative of the fight-Chavez pounding Martinez.  Was I ever shocked to learn that Martinez had dominated the fight.
Martinez ended up winning a lopsided unanimous decision to regain the middleweight title. But the 12th-round rally by Chavez was one for boxing lore, reminiscent of a fight his father was in 22 years ago against Meldrick Taylor just a few miles away from the Las Vegas Strip.
"I was 20 seconds away from knocking him out. I started way too late," Chavez, said. "I didn't really get started until the eighth round."
Martinez was quicker, busier and far more accurate as he won round after round, piling up points as Chavez struggled to do much against him. Martinez said before the fight he didn't consider Chavez a true champion and vowed to give him a beating he would long remember.
He did just that, to the point where trainer Freddie Roach told Chavez after the 10th round he was going to stop the fight if he didn't do something spectacular.
"He fought a great fight and he was a lot tougher than I expected," Martinez said. "He showed great heart."
Martinez won 118-110 on two ringside scorecards and 117-110 on the third. Two judges had him winning every round until the 12th, while the third gave him only one round. The Associated Press had Martinez winning 118-110.
Chavez lost for the first time, falling to 46-1-1, while Martinez improved to 50-2-2.
Apparently Chavez woke up later than I did for the fight..
Is it me…
Or must I say something good about baseball?
The American League East has three teams, the Yankees, Baltimore Orioles, and the Tampa Bay Rays locked in a dogfight for the  title.  Amazing, they have played over 140 games and are within 4 or 5 games of each other.  It like running a marathon and three guys are sprinting to the finish line.
And the National League is having a similar race!
Gotta admit it, baseball did this right!
Follow this link to the latest standings:
http://sportsillustrated.cnn.com/baseball/mlb/standings/?eref=sinav
Is it me…
Or is there another lockout in the National Hockey League?  It seems that the NHL owners would rather lose another season than negotiate with the players.  It worked the last time for owners.  Only in hockey do they make three billon dollars and can't find a way to split it.  Brain Freeze!!!!!
Is it me…
Or is with great sadness we note the death of  Lucy Molina, the grandmother of Victor Cruz, wide receiver, NY Giants.  Our thoughts and prayers are with the family.
.
Edited by D. Pride.