Tags
Allyson Felix, Anthony Davis, Boston Celtics, Drew Brees, Dwight Howard, Jeneba Tarmoh, Jeremy Lin, L.A. Pride, La Russa, nfl, Random Sports Thoughts, San Snead, Steve Nash, Tiger Woods, U.S.A. Track and Field, Usain Bolt
L.A. Pride is a true sports enthusiast.  A former youth, and division II assistant basketball coach, who studied the martial arts, he enjoys and follows all sports, even hockey.  His quick wit and insight brings a fresh view to the world of sports. You may not always agree with him, but you will enjoy his highly opinionated thoughts.
Is it me…
Or is Tiger playing with us? One day after spectators were barred from the golf course because of debris from a violent storm.  They were treated to a real whirlwind named Tiger Woods.
Woods spent 2010 and 2011 trying to rebound from personal upheaval, injury and a major swing change. He looked like a very old 36 as this season began, but over the last four months he's won tournaments hosted by Arnold Palmer (Bay Hill) and Nicklaus (Memorial), and now Woods has again won the AT&T, the tournament that he hosts and brought to D.C. He's healthy; he's practicing; he's winning.
Woods, who at one point, went 41 holes without a bogey to win the Congressional Golf Tournament in Maryland.  It was  isthird win of the season and 74th. overall, moving pass Jack Nickaluus into 2nd place , 8 behind San Snead for  overall PGA wins.
Is this the REAL tiger or  the FAKE Tiger?  We won't know until his next tournament.   He sure knows how to make golf exciting, one way or the other.  Granted none of his wins this season have been majors, but who else has won three tournaments?
Tiger is ___________________!  (you fill in the word(s).
Is it me …
Or is the NFL a bit quiet this week?
NFL teams continue to adjust and shape their rosters;
A list of current NFL transactions can be found at
http://www.cbssports.com/nfl/transactions/
The NFL has decided to relax the blackout rule, which is good news for the average fan in an NFL town.  According to the league, teams now have the option to sell 85 percent in order to avoid a blackout, as opposed to needing a full-blown sellout in order to avoid the blackout.  In other words a team, which has sold 85% of its tickets, may show the game on local TV.  Good news for the fan that can't afford tickets.   (Please note that this is optional and the team has the right to show or not show the game.)
The arbitrator has ruled in favor of Drew Brees in his grievance with the Saints over franchise-tag designation.  Show Drew the money!
Is it me…
Or is Dwight Howard's house up for sale?  Dwight Howard has reportedly told the Orlando Magic that he will only sign a long-term extension with one team- The Brooklyn Nets.
Howard who said he was 'blackmailed' into signing last year with the Magic, was quite firm in his decision to be traded to the Nets, in spite of being linked to trade talks with the Lakers or Mavericks.  Additionally, the Nets have reportedly made a deal with the Atlanta Hawks for Joe Johnson, which would severely limit the Nets ability to pay Howard, unless they gut their remaining roster.
Howard still has a year left on his commitment to the Magic.  However, if the Magic do not trade him this upcoming season, they risk losing him for nothing to free agency.  (We all remember how well that worked for the Magic when they let Shaq walk away.)
Did I miss something in Orlando, It seemed like a nice place to live?
The Boston Celtics have signed Kevin Garnett to an extension, 3 years.  Garnett played extremely well during the playoffs and at times carried Boston.
Ray Allen, a free agent formerly with Celtics,  and the Heat are in discussions regarding Allen opting to bring his talent to South Beach.  Boston has not given up on re-signing Ray and appears ready to bring everyone back for one more run at another title.
Jeremy Lin back to the Knicks may not be the lock it appears to be.  Another team may offer Lin a back loaded contract offering a huge amount of money in the last years of the contract.  If the Knicks were to match such a contract they would have several players (Chandler, Anthony, Stoudemire, and Lin) with big pay days in the final year(s) of their contracts coming up, this would easily push them above the salary cap.   Note, that the new collective bargaining agreement is extremely harsh on those teams above the cap.
The Knicks have to think about what is best for the franchise now and in the future.  These poison-pill contracts can  jam up the salary cap of a team for years and years.  It took the Knicks a long  time to get out from under the salary cap curse.
Toronto Raptors have offered Steve Nash, a Canadian, the keys to the northern kingdom if he so desires.  He won't win a championship, but he'll have plenty of Canadian dollars to spend in the underground mall.  Steve, please wait a day or two, a contender will call!
UH-oh department: New Orleans power forward Anthony Davis, the No. 1 pick in last week's NBA draft, suffered a sprained ankle in a Hornets workout Saturday that may eliminate him from consideration for the Summer Olympics in London. The Hornets confirmed Davis' injury in a statement, saying he was day to day.  Please don't catch the Greg Odon injury disease.
Speaking of Odom, Lamar is thrilled at being able to return to L.A., albeit the Clippers. The Mavericks were able to arrange a deal which allowed the 'Candy-Man' to return to LA LA land.
NBA teams are moving into the free agency period and are adjusting their rosters.  Please follow this link for the latest information on your team:
http://sportsillustrated.cnn.com/basketball/nba/teams/?eref=sinav
Is it me…
Or did Major League Baseball make a mistake letting a retired manager, La Russa manage the 2012 All-Star game?    Apparently La Russa still harbors grudges against certain players and teams and is exacting revenge by snubbing players who deserve to be all-stars.  In the other major sports this would not be so damaging, as the all-star game is  a 'meaningless' exhibition game.  However, in baseball, the game determines who has home field in the World Series.
What were they thinking?
Is it me…
Or did U.S.A. Track and Field get slapped in the face?   Tarmoh and Felix were ruled to have finished in a tie for third place in the women's 100 meters final.  A runoff was scheduled between them to secure the final spot for the100 meters team.
Jeneba Tarmoh conceded the final Olympic spot in the 100 meters rather than race against training partner Allyson Felix.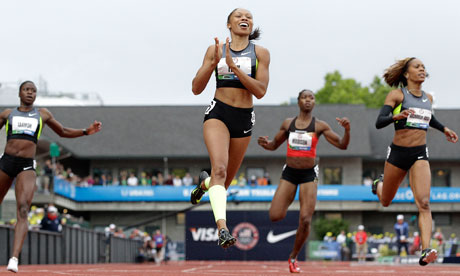 Tarmoh notified USA Track and Field on Monday of her decision. Her agent, Kimberly Holland, already made it known that Tarmoh would not participate in a runoff Monday night to settle a third-place tie at the U.S. track trials.
In an email sent through her agent to USATF, Tarmoh said: "I understand that with this decision I am no longer running the 100m dash in the Olympic Games and will be an alternate for the event."
Tarmoh, who felt all along she had won the race on June 23, did not specify in her statement why she was giving up a chance to possibly run the 100 in London.
USATF president Stephanie Hightower said the organization was "disappointed" Tarmoh had a change of heart.
Usain Bolt, 'the world's fastest human ', was defeated twice by his training partner, Yohan Blake, in the 100 and 200 meters sprints in the Jamaican Olympics trials.
Edited by D. Pride.