L.A. Pride is a true sports enthusiast.  A former youth, and division II assistant basketball coach, who studied the martial arts, he enjoys and follows all sports, even hockey.  His quick wit and insight brings a fresh view to the world of sports. You may not always agree with him, but you will enjoy his highly opinionated thoughts.
 Is it me…
 Or is football getting close?  There is talk of Brett Favre making another comeback.  What better sign is there that football is getting ready to begin than Brett Favre making a return.  Just what we need another preseason of Favre.  Favre's agent said such talk is speculation and Brett has not talked of a comeback.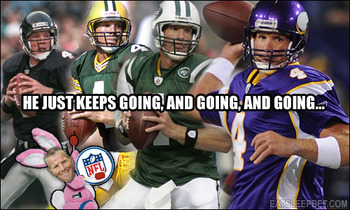 The 41-year-old Favre has insisted he's done playing football, but after several years of flirting with retirement  and not, he could return. Philadelphia's Michael Vick said on Twitter that he would be honored to have Favre as his backup.  (Mike, Favre does not view himself as a backup.)  Just when you thought it was safe to put #4 in the closet.  We'll  see …
Is it me …
Or  is Ochocinco a victim of sunstroke?  Chad Ochocinco was recently pulled over for driving with windows that were too darkly tinted.  Chad like any good citizen had an explanation; he's allergic to the sun.  Now I understand why the Bengals play so many night games.
Is it me…
Or is it about time?  The NFL Owners and  the NFLPA , the billionaires and  the millionaires, have  reached an agreement.  There will be football!!!!!!!!!!!!!!!!!!!!!!
The facilities opened immediately and players were able to get physical and begin individual workouts.  Training camps will open this week.  Free agents may negotiate with teams, but cannot sign until the weekend.  Rookies and rookie free agents may sign with a team immediately.
Owners can point to victories, such as gaining a higher percentage of all revenue, one of the central issues — they get 53 percent, players 47 percent; the old deal was closer to 50-50. There's also a new system that will rein in spending on contracts for first-round draft picks.
Players, meanwhile, persuaded teams to commit to spending nearly all of their salary cap space in cash and won changes to offseason and in-season practice rules that should make the game safer. Players also got the right to five consecutive days off during their bye week.
One important compromise came on expanding the regular season from 16 to 18 games, which owners favored. That can be revisited for the 2013 season, but players must approve any change.  Both sides gave a little to get a little.
It seems like a fair deal to both sides, but I am curious as to why it took 4 ½ months to come up with this agreement.  This could have( and should have) been settled in a couple of weeks.  Unfortunately it took  the pressure of missing games and opening late to make both sides sit down and work hard toward a deal.
Is it me…
Or did Zab Judah look like he was happy to get hit low?   Zab Judah was dominated in his 140 pound title fight with Amir Khan.  Khan controlled the fight from the beginning with his speed and power and was clearly in charge throughout.  Zab, who complained of several fouls, was stopped in the fifth round by a borderline low blow.  Judah claims to have thought he was being given a standing eight count, although he was down on his knees and made no effort, or could not beat  the count, was officially knocked out.
Zab, who was being trashed, looked like he was ready to quit and the "low blow" allowed him to save face.  I knew things were not right when Pernell Whitaker , Zab's trainer, demonstrated a technique in the corner and he appeared to have quicker hands than Zab.  You age quickly and with certainty in the ring.  It may be time for Judah to retire.  As for Amir Khan, he has a very bright future in a very competitive weight class.
Is it me…
Or is there professional baseball in Pittsburgh?    The Pirates have been bad for so many years; no one can remember them ever being competitive.  ( Their last winning season was in 1992)   Well that has all changed this season and the Pirates are fighting for a division title and are causing fans to sit up and notice them.  Is this the rebirth of "We are family"?
Is it me…
Or  do we stand up and applaud Essence Carson for her appearance in the WNBA 2011 all-star  game.  Great job Essence!!!
Edited by D. Pride